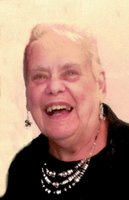 Estelle Raye
Estelle Raye, 78, of Brooklyn, CT passed away Monday, June 19, 2017. She was born November 20, 1938 in Wauregan, CT, daughter of the late Eldege and Andrea (Hamel) Pellerin.
Estelle was a Communicant of Sacred Heart Church in Wauregan and she worked for Delta Rubber, American Thread and at the United States Post Office in Wauregan, becoming Postmaster and retiring on December 31, 2004 after 34 years.
Estelle traveled to 43 of the 50 US States and to 11 countries. She enjoyed traveling and Country Music. She was a fan of UConn Huskies Basketball Teams and the Atlanta Braves. Estelle was a true and loyal friend to many.
She leaves her daughter, Renee Raye of Danielson; her granddaughter Jill Olender and her fiancé Jeremy Alford of Bowling Green, KY; her grandson Jeffrey Gilbert and his fiancé Heather Kolek of Danielson; her great grandchildren Corrine Khamphoukeo, Ava Alford and Bryce Alford; her brothers Roger Pellerin and Keith Pellerin. Also several niece and nephews. She was predeceased by a brother Donald Pellerin.
In lieu of flowers donation in her memory to the American Heart Association, P.O. 417005, Boston, MA 02241-7005

Calling Hours are from 9:45 to 11:15 AM on Friday, June 23, 2017 at Gagnon and Costello Funeral Home, 33 Reynolds Street, Danielson, CT followed by a Mass of Christian Burial at Sacred Heart Church, Wauregan at 11:45 AM. Burial will be in Sacred Heart Cemetery Wauregan, CT. Share a memory at www.gagnonandcostellofh.com