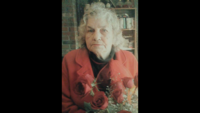 Gertrude Etheridge
Gertrude Eva Etheridge, 103, of Oneco, CT, died Wednesday, June 21, 2017 afternoon at Colonial Health & Rehabilitation Center in Plainfield. She was the wife of the late George Ellery Etheridge, married in 1940, he died December 27, 1982. She was born in North Scituate, Rhode Island, April 3, 1914, daughter of Frederick D. and Virgie (Burlingame) Tinkham. She made her home in Onecomost of her life, she had a great love for her family and enjoyed family gatherings. Gertrude enjoyed cooking and gardening. Throughout the years she was recognized for her Piccalilli relishes and her apple pies, she also liked going to yard sales.
She was predeceased by her two sons Bruce Etheridge and Frederick Etheridge, she was also predeceased by her siblings Fred Tinkham, Emily Bourassa, Margarite Durocher, VirginaTurnquist, and Genevieve Bennett.
She leave her two daughters-in-law, Patricia Etheridge and Diane Etheridge, grandsons Fred and his wife Tammy Etheridge, Jeffrey and his wife Cara Etheridge, Brian Frenette, Jamie Frenette, John Zaccaria and his wife Maria, many great grandchildren and 10 great, great grandchildren.
A private Graveside Service was held in Grove Street Cemetery, Putnam, CT. Share a memory at www.smithandwalkerfh.com