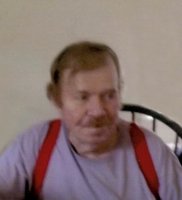 Edward Rainey, Jr.
Edward Rainey, Jr., 67, of Putnam, passed away on June 25, 2017 born December 5, 1949 in Putnam and lived in the Brooklyn - Putnam area all of his life.
He worked 30 years at Knox Glass in Dayville and was a volunteer in the Dayville Fire Department. He was an avid sports fan, loved the Red Sox, Celtics, Patriots and Bruins. He loved his family and enjoyed gatherings with family.
He was predeceased by his father Edward Rainey, Sr. and his sister Cheryl Lavallee. He leaves his mother Eleanor Rainey, sisters Karen Charbonneau and husband Robert, Pamela Buhrer and husband Gary, Janine Koroscil and husband Thomas, Laurie Trotta and husband Al, Susan Halstrom and husband Russell, brother David Rainey and wife Sandra and also several nieces and nephews.
Funeral services are private. Donations may be made to the Putnam Baptist Church, 170 Church Street, Putnam. Smith and Walker Funeral Home, 148 Grove Street, Putnam is in charge of arrangements. www.smithandwalkerfh.com