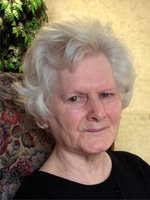 Gloria I. Sarault
Gloria I. Sarault, 85, of Danielson, CT passed away Saturday, June 24th at Pierce Baptist Home, following a 14 year battle with Alzheimer's Disease. She was born January 23, 1932, the daughter of the late Ernest and Irene Joly.
Gloria lived all her life in the Danielson / Brooklyn area. She was employed at Loos & Company prior to her retirement in 1997. She loved to cook, travel and keep active and was always helping others.
Gloria left behind two daughters and two sons, including Donna Ratelle and her husband Richard of Danielson, Charlene Catlin of Brooklyn, Frank Malone and Ken Malone, both of Danielson, two sisters, Elaine Mathieu and Lucienne Mathieu, a brother Robert Joly, and many grandchildren, great-grandchildren, nieces and nephews. She was predeceased by her daughter Charlette Lehto, her sister Beatrice Rose, and her brother Ernest Joly, Jr.
A Mass of Christian Burial will be held Thursday, July 6th at 11 AM at St. Joseph Church, 350 Hartford Pike, Dayville. Burial will follow at St. Joseph's Cemetery. No calling hours. Donations may be made to the Alzheimer's Association, 200 Executive Boulevard, Suite 4B Southington, CT 06489. www.gagnonandcostellofh.com