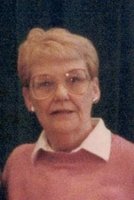 Rachel Lemay
Rachel Lemay, 94, of Brooklyn, CT, died July 3, 2017 at home. She was born December 22, 1922 in Northumberland, NH, daughter of the late Floyd and Pearl (Carter) Manosh. Her husband Adelard "Chief" Lemay predeceased her. Rachel previously lived in Enosburg Falls, Vermont, and Dudley, Massachusetts.
Rachel went to Haverhill High School and later worked at Chester Arthur's Birthplace Museum in Fairfield, VT, and at Douglastown Textile Mill in Douglas, MA. She loved to travel with Barbara Manosh, and Ski and Mary Kalafarski. As a daycare provider she loved and took special care of Shelley and Jay Paradee of Vermont, and Kayla and Eddy Carvalho, and Sarah and Michael Patrylak of Brooklyn, CT.
She leaves behind her son, Robert Lemay of Putnam, CT, sister Avis Anderson and her husband Robert of Vermont, grandchildren William Lemay and Kimberly Lemay, as well as several great grandchildren. Her daughter-in-law Linda Lemay, her brother Robert Manosh, and special friend Joan Payne predeceased Rachel. A thank you to Stephanie Kossoff for being her long time friend, and to MaryJayne Wood of North Carolina for her thoughtfulness as a special, caring honorary niece. Rachel was very grateful to Ron and Lori Patrylak for their friendship and her care over the past several years.
Services are private. Share a memory at www.smithandwalkerfh.com