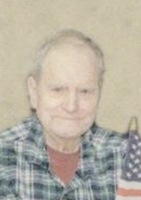 Robert Joseph Lefebvre
PUTNAM - Robert Joseph Lefebvre, 82, of Putnam died Thursday, July 27, 2017 at Day Kimball Hospital in Putnam. Beloved husband of Joyce Lefebvre she died in 2014. Born on July 3, 1935 in Putnam, CT. Son of the late Louis and Rose (Lamoureux) Lefebvre. He served in the United States Air Force and was a member of the VFW Post 13 in Putnam, CT.
Robert was a Communicant of St. Mary Church of the Visitation in Putnam. He worked as beamer for Putnam Herzl and also worked at Sealy, International Paper and for Gilman Funeral Home as a pallbearer. He was a fan of the Celtics, the Patriots and the Putnam High School Football Team. He was a member of the Chain Gang during games from 2005 to 2008.
He leaves his daughter Lisa Hamblin and her husband John of Putnam, grandchildren Joey Hamblin and his girlfriend Paige of Putnam, Joshua Hamblin and his wife Joanna of Woodstock, great-grandchildren Tatiana and Tristan Hamblin of Putnam.
Funeral will be Tuesday, August 1, 2017 at 9:15 AM from Smith and Walker Funeral Home, 148 Grove Street, Putnam, CT, followed by a Mass of Christian Burial at 10:00 AM in St. Mary Church of the Visitation, 218 Providence Street, Putnam, CT 06260. Burial to follow with Military Honors in St. Mary Cemetery. In lieu of flowers donations may be made to St. Mary Church of the Visitation. Share a memory at www.smithandwalkerfh.com.