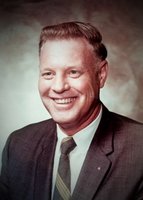 Frank W. McNally
Brooklyn-Frank W. McNally, 94, died peacefully at home with his wife of 69 years, Beverley (Burgess), and his family by his side in the early morning hours of Saturday, July 29, 2017, following a short illness.
Frank was born in Danielson, CT on April 16, 1923, the second of four sons born to Iscah K. and Agnes C. (Johnson) McNally. He graduated from Putnam High School, attended Eastern Connecticut State University and Bryant College. He enlisted in the United States Marine Corps in 1942 and was eventually assigned to the United States Marine Corps Air Group 33 at Cherry Point, NC. During World War II he was involved in many battles from Ulithi to Guadalcanal, and was in the first wave to attack Okinawa. His shorthand skills allowed him to participate in confidential advance planning for war operations. He achieved the rank of Technical Sergeant. Upon his honorable discharge from the Marine Corps in 1946, Frank earned his pilot's license for single engine aircraft. During his service he experienced the world, but his heart always stayed close to home.
Frank and Beverley were high school sweethearts and wed on July 4, 1948. They resided in West Thompson, CT, where they built a home. He worked as an accountant for Wycoff Steel and Pervel Industries. Upon his retirement in 1976, he continued to provide financial services for many organizations. His affinity for finances continued until his final days as he monitored the stock market on his beloved computer, providing advice to family and friends. Frank was active in several public and civic organizations including the 55-Alive Program, ARC of Quinebaug Valley, and the Industrial Commission. He was instrumental in the establishment of the first daycare facility in Thompson while serving on the School Building Committee. Frank was a member of the Christ Church in Pomfret, CT, and served on its Vestry Committee.
Frank's Masonic career was very extensive. He was involved with several impendent bodies of Freemasonry. A member of Quinebaug Lodge #106, he was raised to the sublime degree of a Master Mason in March 1961 and served as Worshipful Master in 1968. Exalted as Royal Arch Mason in Putnam Chapter #12 in May of 1967, he served as Most Excellent Grand High Priest in 1994. Frank was awarded Grand Commander Knight Templar of Connecticut in 1999 and was an Associate Marshal and District Deputy of Masonic District 9-A. Frank's Scottish Rite Membership was in the Valley of Hartford. On May 4, 2002, the Honorary Title of Past Grand High Priest Prince Hall Holy Royal Arch Masons of Connecticut was conferred upon him.
He is predeceased by his brothers Russell and Robert, and survived by his brother Walter. He is also survived by his three children: Constance Crawford (husband Chris), Alison McNally (husband Bobby German), and Frank W. McNally, Jr. (wife Sandra); his beloved grandchildren: Christopher Crawford Jr. (wife Karen), Alison Crawford, Alex Crawford (wife Taylor), Jason McNally, and Lisa McNally; and his great-grandchildren (Chloe, Ryan, Camden and Casey Crawford). His favorite times were those shared with his loving and close-knit immediate and extended family.
Frank will be remembered as a loving, devoted, and generous man to all, with an unequaled zest for life. He never spoke negatively of anyone. His smile and bright blue eyes lit up a room, and his warm personality made all feel welcome. He will be greatly missed. His legacy of kindness and compassion lives on through all he touched.
A funeral service will be held at the Christ Church in Pomfret, CT on Friday, August 4th at 11:00 A.M. Guests are invited to stay after the service for a Celebration of Life gathering in the Great Hall to share their memories of Frank with family and friends. In lieu of flowers, donations may be made in Frank's memory to the Christ Church Flower Fund.