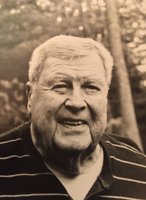 Dr. Henry "Hank" Johnson
Dayville - Dr. Henry "Hank" Johnson, died August 6, 2017, born in Brooklyn, New York on February 19, 1928. Second son of Joseph and Aina (nee Selenius) Johnson. He and his brother Nils, spent their early years in Finland and Sweden during the depression and Second World War. Hank served in the US Army from 1952-1955.
After which he graduated from the University of Bridgeport and then went on to earn a Doctorate of Medical Dentistry from Tufts University in 1959. He practiced Dentistry in Putnam and Pomfret until his retirement in 1996.
Hank was active in the Pomfret Lions Club, taking a term as president. He was an avid fisherman and golfer, and a longtime member of the Quinatisset Country Club.
Predeceased by his brother Nils and first wife, Joyce MacDonald Johnson. He is survived by his second wife, Alice Southwood Gascoigne Johnson, niece Janice Williams, his children, David and Joyce Johnson, Reid Johnson, and Julie Johnson and Matt Price, step-children Carol Albertelli, Judith Pashoian, Deborah Gascoigne and his grandchildren, Ethan, Kendra, and Thomas.
A Memorial Service will be held Saturday, August 12, 2017 at 11:00 AM at Christ Church, 521 Pomfret Street, Pomfret, CT.
In lieu of flowers, donations may be made in his name to Day Kimball Hospital, PO Box 632, Putnam, CT 06260 or Pomfret Lions, Eye Research, PO Box 91, Pomfret Center, CT 06259. Share a memory at www.smithandwalkerfh.com