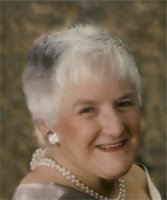 Aline King Blanchette
Putnam - Aline King Blanchette, widow of Joseph Blanchette, passed away Thursday, August 3, 2017, three days shy of her 93rd birthday at Davis Place Nursing Home in Danielson.
Aline was born in Putnam, August 6, 1924, the eldest daughter of Earl and Elsie Johnson. She lived and worked her entire life in the Putnam/Danielson area. From 1965 to 1986 she worked in the Superintendent of Schools office in Putnam as executive secretary. Following that, she was in the school Superintendent's office in Plainfield. She was also a bookkeeper for several area churches. During her lifetime she was active in the American Baptist Association, the Aspinock Historical Society, the Community Concert Association, as well as a docent for the Textile Museum in Willimantic. After becoming a resident of Davis Place she continued her volunteer activities by reading to the first graders at Killingly Memorial School. She enjoyed reading, knitting, sewing, and spending time with her family. Her granddaughters and great grandchildren were her greatest source of pride, and she avidly followed all their activities. She enjoyed visits with all her family and friends, especially when it involved a home grown tomato sandwich and brownies, or grape nut pudding.
Aline is survived by brothers Sidney (Marsha) Johnson of North Stonington, Rolland (Alma) Johnson of Putnam, and sister Mabel (Phil) Ross of Brooklyn, her daughters Anne (Jim) Milliard of Dayville and Fran (Donn) Pittman of Mt. Pleasant, SC, granddaughters Carolyn (Richard) Blackmar of Putnam and Catherine (Rob) Bazinet of Pomfret, and great grandchildren, Lauren and Morgan Blackmar, and Asa and Iris Bazinet.
Services for Aline will be held on Wednesday, August 16, 2017 at 2:00 PM the Smith and Walker Funeral Home, 148 Grove Street, Putnam. Visitation will begin at 1:00 p.m until time of Service. Burial will follow in Grove Street Cemetery.
In lieu of flowers, contributions can be made to either the Putnam Elementary PTO (Classroom Supplies), 33 Wicker Street, Putnam, CT 06260, or the Putnam High School Wall of Honor, PO BOX 673, Putnam CT 06260. Share a memory at www.smithandwalkerfh.com