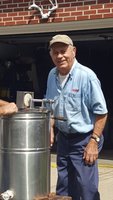 John Wolchesky

John Wolchesky, 91, of Route 74, West Willington, died Wednesday, August 9, 2017 at his home after a brief illness, surrounded by his family. Born May 16, 1926 in Pomfret on his family's farm. He was the ninth child of eleven born to Alexander and Stephanita Wolchesky.
John was the husband of the late Elizabeth (Donlon) Wolchesky whom he married Sept. 3, 1961 at Most Holy Trinity Church, Pomfret. Together they made their home in West Willington. After attending trade school in Putnam to become a mason, he joined the Mason's union in 1950. He remained a member until his death, becoming what is known as a Lifetime Retired Member. He was also very well known in the area for his skills at building chimneys and fireplaces for many years. John proudly served in the US Army from 8/4/1953 to 6/15/1955. John really enjoyed his time outdoors working on his family's farm and in his gardens. He loved to spend time in the fall hunting deer and cutting wood.
John leaves three sons, John M. Wolchesky of Pomfret, Steven G. Wolchesky and Scott E. Wolchesky, both of Willington, one brother, William Wolchesky, many nieces and nephews. He was predeceased by nine siblings.
Funeral will be Thursday, August 17 from Smith and Walker Funeral Home, 148 Grove Street at 9:00 AM, followed by a Mass of Christian Burial at 10:00 AM in Most Holy Trinity Church, Pomfret, burial to follow with military honors in South Cemetery. Calling hours will be Wednesday from 6:00 to 8:00 PM at the Funeral Home. Share a memory at www.smithandwalkerfh.com