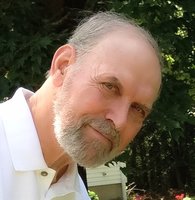 Raymond N. "Ray" Blanchette
Raymond (Ray) N. Blanchette, was called home on August 10, 2017, after being cared for by the love of his life, Joyce Blanchette, who he met when he was 19 years old and working as a bagger at Weiss Supermarket in Putnam. Just like in that first job, with Joyce as his cashier, they made a terrific team. Together they raised three children, have 6 grandchildren, were married 53 years and shared a loving devotion to each other that has been an inspiration to anyone that has been lucky enough to know them.
Ray was born December 11, 1941, to Raymond & Eva Blanchette. He graduated from H.H. Ellis Technical School in 1963 with a diploma in architectural design and engineering. Raymond worked as a technical illustrator, for 33 years for the University of Connecticut. Ray not only drew UConn's official campus map, but also created thousands of illustrations, graphs, and maps for academic books, catalogs, professors, and administration.
Ray was a man of ideas, creativity, mechanical skill and dozens of talents. He was the original "MacGyver" who not only sketched out his ideas into intricate plans but who could create whatever it was that he needed to complete a task. Known for his perfectionism and technical abilities, it was not uncommon for him to "help" his kids with their homework projects; which still are a source of not only many comical stories but more than a few A+ grades.
Ray took his passion for craftsmanship, self-sufficiency and frugal living and created a "homestead" that included buildings, animals, gardens and his prized creation, "Meadowood", a 3-hole golf course for his family to enjoy.
In addition to being a life-long golfer, Ray was an avid long distance runner, who hit his peak in his 40s when he enjoyed his most competitive period of long-distance racing. While Ray went through many health food fads, he had a sweet tooth and a life long love affair with ice cream and donuts. As his oldest daughter will tell you, they often finished up a training run with a Boston-creme from the Donut Hutch in Putnam.
Ray and Joyce traveled the country with their camper and Ray loved to seek out trains and historical sights. Ray was an avid Volkswagen fan. His pride and joy was his 1964 VW Beetle that he fully restored to the last detail.
While Ray was known as a quiet man, he loved to tease people, enjoyed a good joke, and Clint Eastwood movies. He had an off-beat sense of humor and he had running jokes with everyone in the family including his grandchildren who not only participated in teasing him back but loved his stories of how mischievous he was when he was a child. He was a loyal friend, with a kind heart and anyone who was lucky enough to have him in their life was better for knowing him.
Ray leaves behind a family that loved him dearly. He is survived by his wife Joyce (Savard) Blanchette of Putnam, his daughter Monique (Blanchette) Oatley, her husband Micheal Oatley and their two daughters Allyson and Emily, from Brooklyn CT.; daughter Michelle (Blanchette) Landry, her husband Robert Landry, as well as their sons Jack and Dillon of Merrimack, NH . Ray also leaves behind a son, Nathan Blanchette, his wife Shelly (Seney) Blanchette and their children, Caden and Paige of Manchester PA. Ray is survived by his brother Paul Blanchette and his wife Kathy of Ashford CT, as well as, his brother Maurice, and his wife Gerry of Woodstock CT, brother-in-law Roger Savard of Putnam, as well as a number of nieces, nephews and their families.
A private service was held to celebrate Ray's life. In honor of Ray, the family asks to reflect on a happy or funny memory you shared together and keep that as your lasting image of him. In Lieu of flowers, contributions can be made to the Lewy Body Dementia Association.