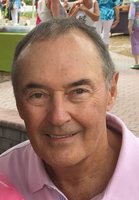 Paul Brennan
~~Paul Brennan, 75, of East Dennis, MA, loving husband, father, brother and loyal friend passed away peacefully on August 25, 2017.
Paul was born on January 5, 1942, to the late Joseph and Jeanne (Ballard) Brennan. He lived most of his life in Brooklyn, CT. He attended St. James School, Killingly High School (Class of 1960) and graduated from the University of Connecticut with a Bachelor's Degree in Insurance Administration. Paul owned and operated the Anderson, Brennan and Reeves Insurance Agency in Danielson, CT.
He was a member and past president of the Danielson Rotary Club. He was designated a Paul Harris Fellow, recognizing his contribution to Rotary and the community at large. For many years, Paul volunteered for the American Cancer Society and was a committee member of the Northeast Cancer Crusaders. He was a life member of the Knights of Columbus and Danielson Lodge of Elks 1706.
On July 27, 1996, he married Peggy Blanchard at Sacred Heart Parish in Yarmouth Port, MA. In 2004, they retired to Cape Cod.
Paul was active in sports throughout his life. In retirement, he enjoyed golfing, biking, gardening and sailing. He especially liked racing his 110 sailboat the Jumpin' Jack Flash on Alexanders Lake in Dayville, CT.
Those left to cherish his memory are his wife Peggy of 21 years, his daughter Nikki Marcheterre and her husband Scott of Brooklyn, CT, sisters Barbara Heath of Waterford, CT and Michelle Bryce and husband Scotty of Dayville, CT. He also leaves several nieces, nephews and lifelong friend, Jim Tripp of Venice, Florida.
He was predeceased by his first wife, Joanne Fiske Brennan and brother in law, Wayne Heath.
Paul will be missed by all who had the pleasure of knowing him. He had a kind, gentle manner and was a true gentleman. Donations in his memory may be made to: Northeast Cancer Crusaders, 37 Tunk City Road, Danielson, CT 06239 or Broadreach Hospice, 390 Orleans Road, North Chatham, MA 02650.

A Mass of Christian Burial will be Tuesday, August 29, 2017 at 11:30 AM in St. James Church, 12 Franklin Street, Danielson, CT. Burial will follow at Holy Cross Cemetery, Danielson, CT. A Calling Hour will be Tuesday from 10:00 to 11:00 AM at the Gagnon and Costello Funeral Home, 33 Reynolds Street, Danielson, CT. Share a memory at www.gagnonandcostellofh.com