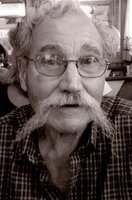 Russell A. Page
Russell A. Page, 84, of Putnam, CT died Saturday, August 26, 2017 at his home in Putnam. Beloved husband of Laila S. (Kallio) Page, they were married in 1956. He was born on May 29, 1933 in Providence, RI, son of the late G. Henry and Florence (Russ) Page.
Russ was a master mechanic and worked for Motorola Co. as Chief of Aviation Maintenance. He was a motorcycle and car enthusiast, a do it yourself man that could fix anything and was known as a family man who could make friends easily. He traveled around the world with Motorola.
Besides his wife Laila he leaves a daughter Audrey Poland-Murphy and her husband Matthew (Mickey) of Illinois, brother Gary Page and his wife Mary of Putnam, brother-in-law John Kallio and his wife Cecile of Killingly, grandchildren Shawn Murphy (Brittany), Jessica Murphy-Tanner, Ryan Murphy (Haley), 11 great grandchildren, many nieces and nephews.
Funeral will be Saturday, September 2, 2017 at 2:00 PM at Smith and Walker Funeral Home, 148 Grove Street, Putnam, CT, burial to follow in Grove Street Cemetery. Calling hours will be Friday from 4:00 to 6:00 PM at the Funeral Home. In lieu of flowers, donations may be made in his memory to the Cystic Fibrosis, Connecticut Chapter, 101 Centerpoint Drive Suite 107, Middletown, CT 06457. Share a memory at www.smithandwalkerfh.com