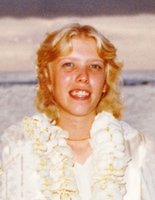 Laurie Ann Burt
Laurie Ann Burt, 57, of Woodstock, CT died Sunday, September 10, 2017 at her home in Woodstock, surrounded by her loving family after a lengthy battle with ALS. Beloved wife of Daniel Burt, they would have celebrated their 37th anniversary on Monday, September 11, they were married in 1980 on the island of Guam. She was born March 6, 1960 in Saginaw, MI, daughter of Gerald Holstein of Ohio and Barbara (Navarre) Holstein of Dearborn, MI.
Laurie spent her youth in Dearborn, MI. She served in the US Air Force as a Weapons Control Technician with the Air Force, also working as a substance abuse counselor after leaving the service. She was a loving and caring person, always had a desire to help people and bring out the best in them. She will be greatly missed. She was an Herbalist and naturopath and also enjoyed the outdoors. She operated an online business selling soaps and also repairing cane chairs. She enjoyed the art of stained glass and pottery. Laurie loved to cook and was a loyal friend to many.
In addition to her husband Daniel and her parents Gerald and Barbara, she leaves two brothers Brian Holstein and his wife Jennifer of Summerville, SC, Keith Holstein of Dearborn, MI, several nieces and nephews.
Calling hours will be Friday September 15, 2017 from 1:00 to 3:00 PM at Smith and Walker Funeral Home, 148 Grove Street, Putnam, CT. In lieu of flowers donations may be made in her memory to The ALS Assoc. CT Chapter, 4 Oxford Rd, Unit E4, Milford, CT 06460. Share a memory at www.smithandwalkerfh.com