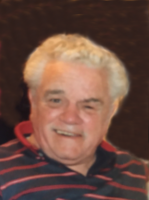 Henry A. Borders
Henry Albert Borders, 92 of Danielson, CT, died unexpectedly, Thursday, September 14, 2017 at the Hartford Hospital. He was the husband of Miriam (Baribeau) Borders, they were married December 13, 1977. His first wife Florence (Gilbeault) Borders, died in 1960. Henry was born June 21, 1925 in Saugus, MA, son of the late Snow and Marjorie (Lathrop) Borders. He was a veteran of World War II serving with the US Army. Henry worked as a Mason most of his life, he had worked over the years for Constantino Brothers, Mullery's, both formerly of Providence, and Louie Tetreault Building as a mason, and later for Preferred Plastics. He was a member of the Danielson American Legion Post 21. Henry had a passion for restoring cars and he enjoyed playing practical jokes on family and friends.
In addition to his wife Miriam, he leaves his children, Albert Borders of Killingly; Gayle Krzywda of New Hampshire; Gregory Borders, Sr. of Killingly; Keith Borders of Austin, TX; George Bessette, Jr. of Killingly; Joanne Demars of Killingly; Michele Integlia of Dudley, MA; Lisa Wood of Killingly, twelve grandchildren, 18 great-grandchildren and 2 great-great-grandchildren, and many nieces and nephews.
He was predeceased by his first wife Florence in 1960, his son Stephen Borders in 1960 and his daughter Beverly Bessette in 1994, and a great-great-grandchild Jordan Fonseca in 2011, his siblings Lou, Lillian Josephine, Dorothy, Frederick and Warren.
Funeral Service will be Monday, September 18, 2017 at 1:00 PM at the Gagnon and Costello Funeral Home, 33 Reynolds Street, Danielson, CT. A Calling Hour will be Monday from 12 Noon to 1:00 PM. Burial will follow in Phillips Cemetery, Foster, RI with Military Honors. Share a memory at www.gagnonandcostellofh.com