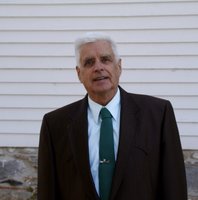 Philippe F. "P.F. Roy" Roy
GROSVENORDALE – Philippe F. Roy, "P.F. Roy," (75) was born in Lewiston, Maine on July 3, 1942. He was the son of Francis May Goss and Philippe Roy, and was a long-time resident of Connecticut. He met his first and only wife Thelma Eileen Kidd in Richmond, Virginia. Phil died at his home on September 17, 2017. He is predeceased by his brother Victor Roy and sister Karen Marois. He is survived by his son Philippe "Matthew" Roy of Brooklyn, New York and his sister Shirley Scott in Florida.
For over fifty years, Phil was a proud and devoted member of the South Woodstock Baptist Church, serving there as a trustee, deacon and, most recently, as head usher. He volunteered for many years at the Woodstock Fair. In his younger days he enjoyed his membership in the Country Cruisers motorcycle club, taking his son on numerous tours of the northeast United States with other members of the club. Professionally he was an award-winning salesman at the Bob Gomes Chrysler dealership in Putnam. Later he worked as a food broker, representing small New England bakeries and training the staff of large grocery stores in the art of donut making. He was educated at the Pomfret Community School and Grossmont Adult School in El Cajon, California.
His friends and family will dearly miss him and forever remember his corny jokes, unique sense of fashion and great head of silver hair.
A memorial service in his honor will be held at 3 p.m. this Saturday the 23rd of September at the South Woodstock Baptist Church. Phil requested that in lieu of flowers a donation be made to the South Woodstock Baptist Church.