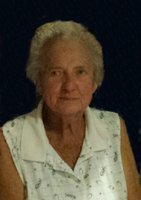 Grayce J. Sanga
Grayce E. Sanga, 89, of Eastford most recently of Union, died Thursday, September 28, 2017 at Day Kimball Hospital in Putnam. Beloved wife for 68 years of the late Charles J. Sanga, they were married March 28, 1948. She was born September 23, 1928 in Valley Stream, NY, daughter of the late Norman J. Sr. and Emma (Kuckler) Jobes.
She served on the Republican Town Committee for years, was very active in the community, was a past organizer for Heritage Day in Eastford, she was an active member of the Eastford Congregational Church, she was a member of the American Legion Women's Auxiliary. She taught swimming lessons for years at Crystal Pond, in Eastford. Grayce was a Cub Scout Den Leader, enjoyed sewing and knitting. She enjoyed her quilting group the Quilters even after she couldn't quilt anymore. She enjoyed her last summer at her favorite beach house in Charlestown, RI.
She leaves, her children and their spouses, Charles and Kathleen Sanga; Ron and Martha Sanga; Janice and Walter Bradway, whom she made her home with after Charles' passing; Jody and Patricia Sanga; Theresa and Dave Reynolds, eleven grandchildren and fourteen great grandchildren, several nieces and nephews. She was predeceased by her brother Norman J. Jobes, Jr.
Calling Hours will be Sunday, October 1, 2017 from 2:00 to 4:00 PM at the Smith and Walker Funeral Home, 148 Grove Street, Putnam, CT. A Funeral Service will be Monday, October 2, 2017 at 11:00 AM at the Eastford Congregational Church, 8 Church Road, Eastford, CT. Burial will follow in Grove Cemetery, Eastford. In lieu of flowers donations may be made in her memory to the Eastford Congregational Church or The Eastford Independent Fire Company, PO 333, Eastford, CT 06242. Share a memory at www.smithandwalkerfh.com