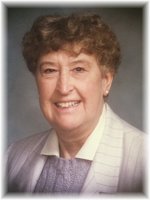 Beverley B. McNally
Beverley B. McNally, 93, died peacefully at Matulaitus Nursing Home in the early morning hours on Saturday, October 7, 2017. Beverley was born in Providence, RI on August 8, 1924, the second child of Henry Ernest and Constance Hird Burgess. Her family moved to Putnam, CT and she attended Putnam schools, graduating with honors in 1942. She attended Mitchell College in New London and transferred to the University of Connecticut. She received her Bachelor of Arts degree in Zoology in 1946. While a student, she was a member of the 1944 National Intercollegiate Archery championship team. Upon graduation, she began teaching junior high school science in the Putnam, CT school system. In 1965, she received her Master of Science Degree in Education from the University of Connecticut. She retired from teaching in 1985, following a 39-year active and noteworthy career.
Beverley served on many local and national Education Associations, and served in several elected positions, including President of the Putnam Education Association. She was a charter member of Alpha Delta Kappa, an international honorary organization for women educators. She was instrumental in forming the National Honor Society of the Putnam Middle School. She was a member of the Putnam Women's Club, where she also served as President, and of the Day Kimball Hospital Women's Board. She was on the Rainbow Court Order of the Amaranth, a social and philanthropic organization basing its membership on Masonic heritage and promoting the practice of truth, faith, wisdom and charity.
Beverley married her high school sweetheart, Frank W. McNally, on July 4, 1948. Frank predeceased Beverley in July of this year soon after they celebrated their 69th wedding anniversary. They resided in West Thompson, CT where they built a home. In addition to her many professional duties, Beverley actively supported her three children academically and in music, sports, 4-H and scouting. Frank and Bev together created a lovely and welcoming home and garden where they enjoyed entertaining family and friends.
In addition to her husband, Frank, Bev is predeceased by her sister Alva King. She is survived by her brother Russell Burgess, and her three children: Constance Crawford (husband Chris), Alison McNally (husband Bobby German) and Frank W. McNally, Jr. (wife Sandra); and her beloved grandchildren: Christopher Crawford, Jr. (wife Karen), Alison Crawford, Alex Crawford (wife Taylor), Jason McNally, and Lisa McNally; and her great-grandchildren: Chloe, Ryan, Camden and Casey Crawford.
Beverley, who wouldn't be caught without her pearls, will be remembered for her feisty and caring spirit. She had the mind of a scientist yet loved a touch of whimsy. She set a beautiful table. Her distinctive "school-teacher" voice could raise the roof and was always paired with a joyful smile. She loved the Red Sox, UCONN basketball and ice cream.
A funeral service will be held at the Christ Church in Pomfret, CT on October 17, at 1:00 pm, followed by interment. Guests are invited to a Celebration of Life reception at Grill 37 following the service. In lieu of flowers, donations may be made in Beverley's memory to the Christ Episcopal Church Flower Fund.