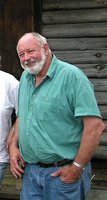 John E. Trowbridge
John E. Trowbridge, 70, of Hampton, passed away Sunday, November 26, 2017 at his home surrounded by his family. Born in Hartford on November 21, 1947, son of the late John P. and Mary (Ryan) Trowbridge.
He was the beloved husband of 47 years to Marjorie (Morse) Trowbridge, the love of his life, married March 21, 1970. In addition to his wife, he is survived by his son, David Trowbridge, his wife Julie and their daughter Rachel of Hampton, CT, daughter Rebecca Trowbridge and her children Alex, Katie and Ian of Woodstock, CT, siblings Peg Cutler of Woodstock, CT, Jim Trowbridge and his wife Cathy of Eastford, CT, Tom Trowbridge and his wife Phyllis of Brooklyn, CT, Mary Lu Loving, her husband Jeff of Conifer, CO, as well as several nieces and nephews.
John always considered Hampton his home. In 1965, he graduated from Marionapolis Prep School. In 1971 he graduated from UCONN with a degree in Civil Engineering. During the late 1960's, John spent summers fighting forest fires in Alaska, then in 1971 moved with Marjorie and newborn son, David, to Alaska to work for Alaska Architectural and Engineering in Fairbanks where they lived in the old Eskimo Museum. In 1972 he returned to home in Hampton and started his Logging business. He built his house in 1980, where he and his crews supplied the 50 thousand board feet of locally grown logs. Pikes Sawmill moved their sawmill up to the property and sawed the logs into lumber. It took 1 ton of nails hammered by the hands of family and friends to build the house.
John was the owner of Trowbridge Forest Products, working with his son David. For over 45 years, he led the industry in innovation both in equipment and markets. Being one of the first logging companies to export logs to Canada and overseas. In addition, he supplied wood to Mystic Seaport for the ships "Morgan" and "Amistad" which were used for masts, spores and planking. His business was built on integrity and honesty. Most importantly John cared. He cared about the men who worked for him, the resource and the landowners who trusted their forestland to him.
John was a loving father, caring husband and proud grandfather. His love for the outdoors was demonstrated in every aspect of his life. His memory will continue in the hearts of all who knew and loved him.
Memorial service will be December 9, 2017 at 1:00 PM at the Hampton Congregational Church, 263 Main Street, Hampton, CT 06247. In lieu of flowers donations may be made to the Hampton Congregational Church. Share a memory at www.smithandwalkerfh.com