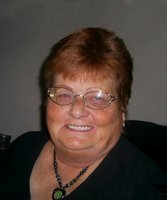 Dolores E. Manis
Putnam - Dolores "Lucy" Manis, age 73, died at her home in Putnam, CT on January 4, 2018. Dolores was born on June 4, 1944 in Putnam, CT to Raymond and Merina (Landry) LeMoine. She grew up in Putnam and attended Putnam schools.
Dolores married the love of her life, Lee Roy Manis in Florence, Arizona on October 4, 1991. They enjoyed many years of happiness. Lee passed away on May 10, 2013. Shortly after his passing, Dolores moved to Virginia to be closer to her sister. In 2016, Dolores moved back home to Connecticut and was reunited with old friends and family.
Dolores enjoyed going for car rides and listening to music, playing Bingo, spending time with her family and friends, and visiting Deary Bros. Stand every summer.
Dolores leaves two sisters; Claire Timmerman and her husband Thomas, and Janice Laperle and her husband Ronald. She also leaves four children; Deanna Dufault, Charles Bernier, Michael Reenstra and Jeff Reenstra. She leaves six grandchildren; Thomas Geer, Stephanie Geer, Zachary Reenstra, Shane Reenstra, Shawn Reenstra, and Addison Brook Eager. Dolores also leaves one great-grandchild; Ethan Almodovar.
A private service will be held for family only. Arrangements by Smith and Walker Funeral Home, Putnam, CT. www.smithandwalkerfh.com