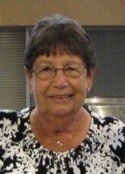 Elizabeth "Bette" Fillmore
June 11, 1938 – January 16, 2018
Danielson- Inge Elizabeth "Bette" Fillmore, age 79, passed away peacefully at Lawrence and Memorial Hospital in New London, CT on Tuesday, January 16, 2018 following a brief illness.
Bette is predeceased by parents Katharina and Vincent Burke of Randolph, Maine and her late husband Jerre Fillmore of Danielson. She is survived by her brothers, Peter Burke and wife Sandra Burke of Bangor, Maine and Robert V Burke and wife Nathalie Burke of Quebec, Canada. Her two sons, Jerre Fillmore and wife Robin Fillmore of Danielson and Mark Fillmore and wife Laura Fillmore of Danielson. Her four "favorite" grandchildren Kasey and husband Matt Tocchio, Kyle Fillmore, Hannah Fillmore and Connor Fillmore of Danielson. And special friend Edward Wiezbicki of Plainfield and his family.
Bette was born in Frankfurt, Germany in June of 1938. She immigrated to the United States at the age of 14 where she then lived in Randolph, Maine for much of her young adult life. She went on to attend Gorham State Teachers College and received a degree in Education. During her time in Gorham, Bette met her husband Jerre, who she was married to for 50 years. Upon relocating to Danielson, CT in 1967, Bette accepted the position of an English teacher at Killingly Intermediate School. Her career then took her to Plainfield Central School where she spent her last 20 plus years of teaching. She was a teacher, advisor, and friend to the National Honor Society from 1988-2004. She also loved helping and organizing the Killingly summer school program. She was an accomplished educator with a love for grammar. Inge, sister, mom, ma, gram, Grammy, great grandmother and friend, Bette had a love for cooking, sewing, and watching her grandchildren play sports. For the last 6 years of her life, she loved spending time traveling with her best friend Ed, catering, the Caddy Shack, playing Hand and Foot and having a cold beer after 9 holes of golf with Judy.
Calling hours will be Saturday, January 20, 2018 starting at 10:00 AM at the United Methodist Church, Spring Street, Danielson followed by a Celebration of Life at 11:30 AM. In lieu of flowers the family wishes donations be made in memory of Bette Fillmore to either Plainfield Central School National Junior Honor Society, 75 Canterbury Rd, Plainfield, CT 06374 or K.I.S (memo-KIS Students in need), Attn: Ms. Esch, 1599 Upper Maple St, Dayville, CT 06241. Arrangements by Smith and Walker Funeral Home, Putnam, CT. Share a memory at www.smithandwalkerfh.com