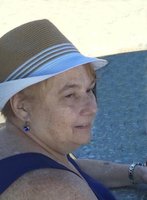 Deborah A. LeBeau
Deborah A. LeBeau, 69 of Baltic, died Friday, February 9, 2018 in Norwich, after an illness. She was born September 13, 1948 in Webster, MA, daughter of Joseph and Joan Harris.
She had made her home in Baltic for many years, formerly of Putnam and Webster, MA. She had a passion for animals and spent her retirement years caring for the many she rescued.
She leaves her children Michelle Mackin, Polly Kirk, Tammy LeBeau, Brian Marcotte, she was predeceased by her son Craig LeBeau in 1998. She also leaves her beloved grandchildren, Laura Perkins, Meagan Perkins, Shaine Bonin, Ricky Kirk, Kim Sparkman, Justin Higgins, Randy Higgins, Kyle LeBeau, her great grandchildren Jackson Sparkman, Cason LeBeau, her siblings Dianne, Donna, Denis, Danny of Webster, MA.
A Memorial Service Wednesday February 14, 2018 at 10:30 AM at the Smith and Walker Funeral Home, 148 Grove Street, Putnam, CT. There are no Calling Hours. Share a memory with his family at www.smithandwalkerfh.com