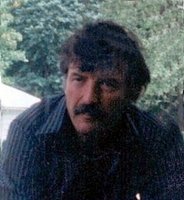 Guiseppe "Joe" Joseph Mancini
Guiseppe "Joe" Mancini, of Putnam passed into Heaven on Friday, February 9, 2018 at the age of 75. He was born September 10, 1942 in Pontelandolfo, Italy, son of Orazio and Maria Mancini.
Joe served in the US Army as an MP in Germany. He worked at Boudreau's welding until he retired. He leaves behind his wife Linda (Gould) and two stepchildren Shanna Wrobel who helped care for him, Shawn Wrobel and his wife Kristie and granddaughter Charlie and also his daughter Angela, two brothers Giambattista "John" and his wife Elaine and Vito and his wife Anna.
Calling hours will be Monday, February 19, 2018 from 6:00 to 8:00 PM at the Smith and Walker Funeral Home, 148 Grove Street, Putnam, CT. In lieu of flowers donations may be made in his memory to NECCOG Animal Services, 125 Putnam Pike, Dayville, CT 06241. Share a memory at www.smithandwalkerfh.com