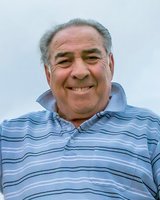 Rosario "Tom" Thomas Musumeci
Boynton Beach, FL - On February 2, 2018, Rosario "Tom" Thomas Musumeci of Boynton Beach, FL passed away peacefully with his loving wife and four children at his side in the TrustBridge Hospice in Boynton Beach. Tom was born in Mellili, Sicily Italy on November 26, 1942 to the late Giuseppe and Vincenza (DiMauro) Musumeci. Tom arrived at Ellis Island on August 17, 1948 with his father while his mother and older sister, Sebastiana (Nella), had come to the USA the year before. Tom lived in Middletown CT, where he played Little League Baseball, becoming a member of the Connecticut Allstar Championship Team in 1953. He was a member of the Middletown High School Class of 1962, where he earned 11 Varsity letters in Football, Basketball, & Baseball. He was awarded the Connecticut Scholastic Art Gold Key for his water color painting of the Charles W. Morgan Whaling Ship at Mystic Seaport. As a state winner, his painting was on display at the Metropolitan Museum of Art Scholastic in 1960. Tom began college in the Fall of 1962 at Becker Jr. College where he earned an Associate Degree in Accounting and met the love his life, Jeri Lee Carpenter of Woodstock, CT. They were married on December 5, 1964 at St. Sebastian Church in Middletown, CT. While working & raising a young family Tom earned his Bachelor's Degree at Nichols College in Dudley MA graduating in May 1970. With some free time, he volunteered to coach local area Senior and Little Leagues in Putnam & Woodstock. He coached for over 20 years, starting before his children were old enough to play ball. He knew he could make a difference to the community by offering equipment and transportation to disadvantaged youth. All were welcome on Tom's teams as long as they could put on a baseball cap over their long hair! It was the 70's! His love of art never dwindled, he would stop at any or all art galleries no matter where he traveled, especially during a trip to Italy in 2005. It was a must to see the work of his favorite artists, from Sicily to Rome to Florence, Venice, and Milan, all the while providing his dear wife, Jeri with a rich history lesson from each. Tom was a forty-eight-year member in the BPO Elks Lodge 574 in Putnam, CT and a member of the Knights of Columbus for many years as well. In retirement Tom's passions were golfing and writing, having completed three novels.
Tom is survived by his wife Jeri of 53 years, his three sons Brian (Selena) and Joseph (Karen) of Woodstock CT, Scott of Orlando, FL and one daughter Gina (Jason) Werner of Hartford, CT. The family lived in Woodstock where they raised their four children. Tom is also survived by seven grandchildren: Mikayla, Shealyn, Thomas, Ella Rose, Giulia & Gianna of Woodstock and Nicholas of Palm Coast, FL; his three sisters, Sebastiana (C. Richard) Rose of Florida, Ann Marie (Robert) Rogers, and Santina (Dale) Aldieri of Middletown, CT; his father-in-law, Walter E. Johnson and wife Doris of Daytona Beach, FL; brothers-in-law Richard (Jeanne) Johnson of Thompson, CT, and Alan (Donna) Johnson of Brunswick, GA. He also had many nieces, nephews, aunts, uncles, cousins, grandnieces and grandnephews. A truly large and loving family, as well as so many friends and church groups along the East Coast that have all shared their love and prayers over the past year as Tom courageously fought with Cancer-Glioblastoma Brain Tumor.
Calling hours will be Friday, February 23, 2018 from 5:00 to 8:00 PM at the Smith and Walker Funeral Home, 148 Grove Street, Putnam, CT. The Funeral will be Saturday, February 24, 2018 from the Funeral Home at 10:15 AM with a Mass of Christian Burial at 11:00 AM at Most Holy Trinity Church, 568 Pomfret Street, Pomfret, CT. In lieu of flowers, to honor Tom and his love of art & athletics, his family has established the Rosario "Tom" Musumeci Memorial Fund for the Arts and Athletics to benefit students and/or programs in these areas. Donations can be mailed to: The Woodstock Academy Office of Advancement, 57 Academy Road, Woodstock, CT 06281 www.smithandwalkerfh.com