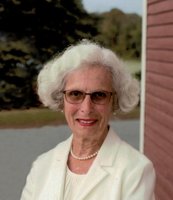 JoAnn M. Byrnes
Pomfret Center- JoAnn M. Byrnes, 87, of Pomfret Center, died at home on March 7, 2018. She was the wife of James J. Byrnes, Jr. They were married in 1953, until he died on February 11, 1991. She was born July 10, 1930 in Worcester, MA, the daughter of Joseph James and Nina (Vendetti) Molinari. JoAnn was raised in Norwich, CT, and was a 1948 graduate of Norwich Free Academy. She received her BS in Nursing in 1952 from Skidmore College.
JoAnn made her home in Pomfret Center and was a communicant of Most Holy Trinity Church in Pomfret for most of her life. She served as Chairman of the Pomfret Library Board and was a longtime member of Day Kimball Hospital Women's Board. She volunteered for the American Red Cross and Day Kimball Hospital. JoAnn traveled extensively to Europe and throughout the US and the Caribbean. She loved her pets and enjoyed caring for them.
She leaves five children: Christopher Byrnes of Acton, MA; Amy Simek of New York City; Mary Ann Smith and her husband Tom of Pelham, NY; Sally Tanner and her husband Brad of Concord, NH; Jay Byrnes and his wife Susan of Woodstock, CT; and her beloved grandchildren, Zachary, Molly, Zoe, Kevin, Kelly, Victoria, Jack, and Abigail . Besides her husband, she was predeceased by her son-in-law Karel Simek.
A Mass of Christian Burial will be held on Saturday, March 24, 2018 at 11:00 AM at Most Holy Trinity Church, 568 Pomfret Street, Pomfret. In lieu of flowers, donations may be made in her memory to the Hale YMCA, 9 Technology Park Dr., Putnam, CT 06260 or PAWS, 244 Rte. 171, Woodstock, CT 06281. Arrangements by Smith and Walker Funeral Home, Putnam, CT. Share a memory at www.smithandwalkerfh.com