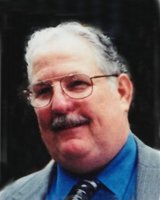 James Whit M. Larkin
James M. "Whit" Larkin, Sr. 80, of Dayville, passed away March 31, 2018 at Day Kimball Hospital. He was born in Killingly, March 24, 1938, son of the late Byron and Susan (Mason) Larkin. He was the husband of Ethel "Dolly" (Thurlow) Larkin.
Whit was a member of The Living Faith United Methodist Church in Putnam. He served in the U.S. Navy from 1955-1959. He was employed by the Town of Killingly as a laborer, and he later worked at Rogers Corporation for 40 years. He was a member of the Danielson Lodge of Elks #1706, Ekonk Community Grange, and Moriah Lodge #15 A.F. & A.M. He played in many leagues over the years, softball, golf, horseshoe, pitch, bowling and dartball. He loved the Red Sox, UCONN Women's Basketball, Cleveland Browns and Bluegrass Music.
In addition to his wife Dolly, Whit is survived by his children Susan (George) Bessette of Dayville, James (Annemarie) Larkin of Pomfret, Sally Larkin of Dayville, and Tammy (James) Dexter of Sterling; his sister Grace Vanasse of Dayville, his grandchildren: Mason, Cooper, Evelyn, Avery, Abigail, and Holly; great grandchildren: Kaylee, Cody, and Logan; his brother in laws and sister in laws and many nieces and nephews. He was predeceased by his brothers: Harry Larkin, Melvin Larkin, and twin brother: John Larkin, sister Elsie Skinner, and grandson Connor Larkin.
Calling hours will be Wednesday, April 4, 2018 from 5:00 to 8:00 PM at Smith and Walker Funeral Home, 148 Grove Street, Putnam, CT. A Funeral Service will be Thursday, April 5, 2018 at 11:00 AM in the Living Faith United Methodist Church, 53 Grove St. Putnam, CT 06260. In lieu of flowers donations may be made to Living Faith United Methodist Church. Share a memory at www.smithandwalkerfh.com