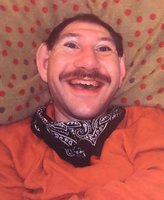 Theodore Erik Piecyk
T. Erik Piecyk, unexpectedly passed on to his eternal reward on April 3rd, in his sleep at his Squaw Rock Group Home. Erik will always be remembered by all of us for his infectious grin and his greeting to all who knew him. Not one of us can forget his excited, smiling face that lit up the whole room and he will be sorely missed by so many people as he touched so many lives with his love. Erik was an Angel sent by God to teach us the meaning of love and certainly was LOVE to all who truly knew him.
Erik is survived by his parents Theodore and Rosemarie Piecyk as well as his sister Taramarie, her husband Jeremy and their children Calvin, Mason and Aliya Rose, as well as several aunts, uncles, nieces and nephews.
Calling hours will be Thursday, April 5, 2018 from 6:00 to 8:00 PM at Gagnon and Costello Funeral Home, 33 Reynolds St. Danielson, CT. A Mass of Christian Burial will be Friday, April 6, 2018 at 10:30 AM in St. Philip the Apostle Church, 64 Pompey Hollow Rd. Ashford, CT 06278. Burial will follow in St. Philip Cemetery Ashford, CT. In lieu of flowers and during this time of transition we ask that you send your donations to: The Erik Piecyk Memorial Fund, c/o Rosemarie and Theodore Piecyk, 161 Searles Road, Pomfret Center, CT 06259. This fund will help support and fund recreation programs for adults with developmental and intellectual delays in the Quinebaug Valley area of Connecticut. Please return in a few days for more information and a link to our website. Share a memory at www.gagnonandcostellofh.com