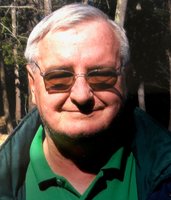 Joseph C. Scanlon, Jr.
Joseph C. Scanlon, Jr., 73, of Woodstock, CT, passed away April 8, 2018. He was born in Worcester, Mass., March 29, 1945, son of the late Dr. Joseph C. and Rita H. (Fleming) Scanlon.
Joseph was employed for more than 40 years at Day Kimball Hospital in Putnam, CT as the Blood Bank Manager and Laboratory Technician. He attended St. John's High School, graduated from West Boylston High School, and attended the Franklin Institute of Boston.
A long-time resident of Woodstock, CT, he is survived by his children: Bryan K. Scanlon and his wife Stacy of Walnut Creek, CA., David P. Scanlon of Dennis, MA., Andrew P. Scanlon and his wife Jeanne of Putnam, CT., Dennis M. Scanlon of Grosvenordale, CT, and Katherine E. Scanlon and her partner Dylan of Newark, VT; his grandchildren Molly and Samantha Scanlon; godson Sean Scanlon of Mendon, MA.; Sharon Uguccioni of Woodstock, CT., and her family; his brothers Thomas Scanlon of Sutton, MA., Michael Scanlon of Littleton, NH, and William Scanlon of Worcester, MA. He was predeceased by his parents and his brothers John and Timothy Scanlon.
A graveside service will be Saturday, April 14, 2018 at 11:30 AM at Center Cemetery, Woodstock, CT. Calling hours are Friday from 6:00 to 8:00 PM and Saturday from 10:00 to 11:00 AM at Smith and Walker Funeral Home, 148 Grove Street, Putnam, CT.
In lieu of flowers, donations would be appreciated to East Coast Canine Rescue, in Pomfret, CT at http://www.eastcoastcaninerescue.org/ Share a memory at www.smithandwalkerfh.com