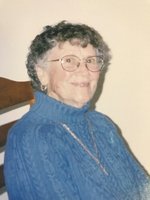 Lucille Evelyn Andert
Evelyn Lucille Andert of Andert Drive, Eastford, CT, peacefully departed this life on November 9, 2017, at the age of 95, at the home of her son Joseph. She was predeceased by her loving husband, Irving Andert. Evelyn was born November 28, 1921 in Norwich, CT. She was predeceased by her parents Joseph and Cecilia Benoit Demarais and brothers Gerald Demarais and Lucien Demarais.
Evelyn leaves her daughter Nancy Marmat, her husband Jerald, and daughter Nicole. She also leaves her son Joseph Andert and Carla Harrington of Eastford, son Donald Andert and children Clayton, Kaitlyn, Rachel and her son Camden of Georgia, son Michael Andert and his wife Laura and daughter Olivia. She also leaves a sister Mary Rose Gayle of Ellington and many nieces and nephews. Evelyn grew up on a small farm in Lisbon, CT where she helped raise chickens and had a beloved horse named May Girl and a dog Lady. She loved her job at a large woolen mill in Occum, CT where she was a fabric inspector.
She met the man of her dreams and married Irving Andert April 21, 1951. Together they ran Haven Lodge Dairy Farm. Evelyn loved and named each of the cows. She loved mowing the lawns on her little tractor and gardening. In 1963 they decided to stop farming and started Andert Carpet Service which they ran until 1990. After retiring they began extensive travel in the US, Caribbean Islands, Asia and Europe. Smith and Walker Funeral Home arranged a private graveside service on November 14, 2017. Donations in her memory can be made to Hospice at the Kimball Hospital, PO Box 632, Putnam, CT 06260 www.smithandwalkerfh.com