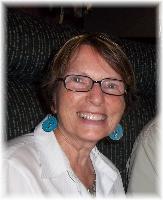 Anne Marie Blackmore (Simmons) Hill
Ann Marie Blackmore (Simmons) Hill
Died-April 1, 2014
Ann Marie Blackmore (Simmons) Hill of Lakeway, TX (formerly of Pomfret), died April 1, 2014, following a 7 year battle with ovarian cancer. A graveside service to honor Ann's life will be held FRIDAY June 13, 2014 at 11:30 AM, at the South Cemetery in Pomfret, CT.
Born in 1945, Ann was the first of eight children of Mary and Arthur Blackmore of Pomfret. Her father, Arthur, died 11 days after Ann, on April 12, 2014. Ann was the wife of TV broadcaster Brian Hill of Lakeway, TX, loving mother to Michael Simmons of Littleton, CO and Jason Simmons of Austin, TX; and step-mother to Leighton Hill of Virginia Beach, VA. Ann leaves 4 granddaughters and 1 grandson.
Ann grew up in Pomfret, and was a 1963 graduate of Putnam Catholic Academy. Following her marriage to Edward Simmons of Putnam, and raising their sons, she earned a bachelor's degree and two master's degrees toward a successful career in health services administration. Most recently with Cerner Corporation, Ann's work involved extensive travel throughout the U.S. and internationally; as she trained staff in the use of new healthcare technologies.
Ann is survived by seven siblings and their spouses: Dan Blackmore (Francene), Mary Ragno (Seb), Marguerite Rose (Bob), John Blackmore (Kathy), Judie Blackmore (Mike), Kate McGivern (Jim) and David Blackmore (Jacki). She is also survived by many nieces, nephews and their children and by her former husband Edward Simmons.
Ann's family invites friends to join us in a celebration of her life on FRIDAY June 13, at the South Cemetery, Pomfret, at 11:30 AM. Following a graveside service led by Reverend Jonathan Scott, friends are welcomed to join us at the Grill 37, Pomfret.
If you wish to remember Ann, please consider a donation to:
Non-profit Hospice Austin http://www.hospiceaustin.org/get-involved/donate/
and Ovarian cancer research http://www.ovarian.org/
To share a memory with her family "Light a Candle" at www.smithandwalkerfh.com