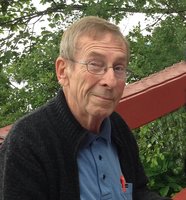 Everett T. Harding
Everett T. Harding, 87, of Brooklyn formerly of Hawkins Road, Woodstock Valley, CT, died Wednesday, April 11, 2018 surrounded by his loving family. He was the beloved husband of Helen (Payson) Harding, they were married July 22, 1951. Everett was born on October 15, 1930 in Madison, ME, son of the late Daniel and Velma (Clark) Harding.
After many moves around the state of Maine, the family finally settled in Camden. He met the love of his life at Camden High school and graduated in 1949. In 1951 he was drafted into the U.S. ARMY during the Korean War and was stationed at Fort Richardson in Anchorage, AK. After leaving the service he and Helen moved to Chicago IL, where he attended DeVry Institute and received his Associate Degree in Engineering. Everett and Helen moved to Eastford, CT in 1956 where he began a career as a test engineer at Pratt and Whitney in East Hartford, CT. He retired in 1991 after 35 years. He was a 37 year member of the Putnam Lodge #46, a member of Trinity Chapter #9, Montgomery Council #2, and St. John's Commandery #11 Knights Templar. He was also a member of Elks Lodge Willimantic #1311, American Legion Eastford Post #203, a 50 year member of the Eastford Independent Fire Company, Order of the Eastern Star Betty Putnam #106 and a member of the Church of the Good Shepherd in Woodstock Valley, CT.
Everett loved the time he spent with his family and friends at his camp in Lincolnville, ME, enjoying lobsters on the deck and playing cards at night. He was generous to a fault by making sure everyone was well fed. No one ever left hungry. He was a loving husband to his wife, father to his children, and wonderful grandfather and great-grandfather. He simply loved everyone he met and it only took a second to fall in love with him. He was so kind and had the best sense of humor.
He leaves his wife Helen of Brooklyn, CT and daughters; Doreen Harding Holt and her husband Ken of Putnam, CT, Pamela Harding Kersh and her husband John of Virginia Beach, VA, grandchildren; Benjamin Shead and his wife Kathryn of Thompson, CT, Alison Shead of Santa Ana CA, Ethan Kersh of Virginia Beach, VA, great-grandchildren; Isabelle Shead, Zachary Shead, Samuel Shead, sister Barbara King of Gorham, ME and several nieces and nephews. He was predeceased by his son Scott E. Harding in 2004.
Calling hours will be Saturday, April 14, 2018 from 5:00 to 7:00 pm at the Smith and Walker Funeral Home, 148 Grove Street, Putnam, CT. Funeral service is Sunday, April 15, 2018 at the Church of the Good Shepherd at 2:00 pm, 12 Bradford Corner Road, Woodstock Valley, CT. He will be buried in the family lot in Maine with his son Scott, at a later date. In lieu of flowers donations can be made to the Church of the Good Shepherd, PO Box 747, Woodstock, CT 06281. Share a memory at www.smithandwalkerfh.com