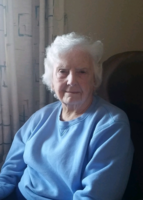 Avis Sherman
Avis Sherman, 97 died Wednesday, July 4, 2018 at Day Kimball Hospital with her loving family by her side. Avis married the love of her life A. Gordon Sherman on May 7, 1944 and together they had two children, he predeceased her on November 5, 2006. Avis was born December 25, 1920 in Dayville, to Otto and Agnes (Johnson) Lehrer
Avis lived many of her years at the family home on Killingly Ave., in Putnam, CT., where she enjoyed her many hobbies including birdwatching and feeding, gardening her flowers and vegetables, sewing, cooking and baking for her family and friends.
Avis was also a very active Member of the Congregational Church of Putnam and enjoyed singing in the choir for many years and participating in activities with the Women's Fellowship. She worked as a Bookkeeper for much of her career at Agway in Putnam and Putnam Farmers Co-Op before retiring to pursue her hobbies.
Avis leaves a son Scott G. Sherman and his significant other Deborah Poulin of Putnam, CT, daughter Mary Louise Chabot and her husband George of Webster, MA, granddaughters Jennifer L. Sherman of Woodstock Valley, CT, Erica Chabot of Webster, MA, grandson Steven Sevigny of FL.
A calling hour will be Monday, July 9, 2018 at 11:00 to 12:00 PM at Smith and Walker Funeral Home, 148 Grove Street, Putnam, CT, with a service at 12:00 (Noon), burial will follow at High Street Cemetery, Dayville, CT. In lieu of flowers donations may be made to the Memorial Fund of the Congregational Church of Putnam, 175 Main Street, Putnam, CT 06260. Share a memory at www.smithandwalkerfh.com