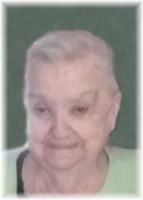 Dolores Fearing
DAYVILLE, CT - Dolores Marie Fearing, 84, of Dayville, CT passed away on July 6, 2018.
She is survived by 10 children, Debra Busha, Linda Snoek, Richard Fearing, Ann Bressan, Susan Gaboriault, Robert Vadeboncoeur, Michael Fearing, Brian Fearing & Keith Fearing. She was also predeceased by her son Ronald Fearing. Also survived by 27 grandchildren, 36 great great grandchildren, and 4 great great great grandchildren.
Dolores worked for many years at the Woonsocket Health Center and volunteered at the Senior Center.
A Memorial Mass will be held at Our Lady Queen of Martyrs Church, 1409 Park Avenue, Woonsocket, RI 02895 on Thursday, August 2, 2018 at 10am.