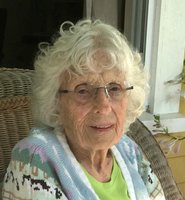 Esther G. Foskett
Obituary for Esther G. Foskett
Born 9/16/18 Died 8/1/18
Esther Green Foskett born Sept. 16, 1918 to Daniel and Bettie Green of Pomfret, Ct. Esther married Harold Foskett, June 26, 1940. They made their home in Woodstock where Esther lived for 78 years. She leaves her children, Harold D. Foskett, Jr. (Cynthia) and Virginia A. Sears (Christopher) also of Woodstock, her grand children, Valerie Gifford of Maine, Alison Powell of Oklahoma and David Brennan, grand son-in-law, of Connecticut; and 4 great grand children, . She also leaves her step grand children, Kelly Conley and Tim Sears and their children. Sharon Harmon, Craig Kallgren, Duane Kallgren, John Kallgren, Carl (Russ) Kallgren and their children. Esther was predeceased in 1991 by her beloved husband, Harold and in 2012 by her grand daughter, Carolyn Brennan. She was also predeceased by 3 brothers and 2 sisters.
Esther was the oldest living member of the East Woodstock Congregational Church, having served as the President of the Ladies Benevolent Society until 2017. She loved the church and was a faithful servant. Esther was a founding member of the Woodstock Historical Society. She had served as Secretary for the North Woodstock Library and the Central Cemetery Assoc.
Esther's greatest joy was being outside working in her gardens, tending her plants, floral arranging and putting by the fruit of her labor. She enjoyed homemaking, baking and making her famous donuts and apple pie. She was awarded, "Best Cook in Town" in 2012, in a featured article of Yankee Magazine for her birthday cake recipe.
Esther was a plein air artist having completed many oil landscapes and seascapes. She was also a great photographer.
A graveside service will be held, Saturday, August 11, 2018 at 10:30AM, at the Central Cemetery, Woodstock, Ct. There will be a gathering of Esther's family and friends at her home following the service.
In lieu of flowers donations may be made to Muddy Brook Fire Dept., E. Woodstock, Ct. or Hospice & Palliative Care of Northeastern Ct. Share a memory at www.smithandwalkerfh.com