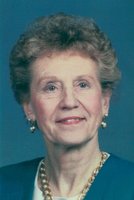 Anna Pusczynski
Anna Pusczynski, 87, of Brooklyn, CT died August 1, 2018 at Umass Medical Center in Worcester, MA. She was born December 16, 1930 in Munich, Germany. Daughter of the late Peter and Anna (Kressierer) Wagner. She was the beloved wife of Donald Pusczynski they married on November 26, 1954.
In 1956 her family relocated to Yuma, AZ, they also lived in Kentucky, Michigan, France, Germany and finally South Carolina where Donald concluded his Military career. In 1971 her family moved to Brooklyn, CT.
She worked in the Brooklyn School cafeteria from 1975-1983. Anna was a Communicant of Our Lady of La Salette Church in Brooklyn, CT. From 1983-1989 she was Fr. Barry's Housekeeper. Anna loved reading, swimming and dancing. She was a Brownie leader when her daughter was young and she did a lot of volunteer work. She was an active member of the Hartford German Club and a life member of the Yankee Yesteryears Car Club.
She leaves her husband Donald Pusczynski of Brooklyn, CT; her son Andrew Pusczynski and his wife Janet of Brooklyn, CT; her daughter Linda Steele of Brooklyn, CT; her grandchildren Kyle, Brianna, Kaylyn and Nick; her very special friends Bruce and Denise Beaudoin. She was predeceased by a son Steven Peter Pusczynski
A Mass of Christian Burial will be at 10:00 AM on August 6, 2018 in Our Lady of La Salette Church, 25 Providence Road, Brooklyn, CT. Burial will follow at 1:00 PM in the State of Connecticut Veteran's Cemetery, 317 Bow Lane Middletown, CT. Share a memory at www.gagnonandcostellofh.com