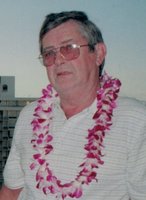 Francis R. Mackie, Jr.
Francis R. Mackie, Jr. 75, of Danielson, formerly of Texas and Florida died Wednesday, August 8, 2018 at Hartford Hospital. Born on September 10, 1942 in Putnam, son of the late Francis and Yvonne (Broulard) Mackie, Sr.
Francis was a jack of all trades, he loved dancing and singing karaoke and he was a DJ for ten years. He was also a member of the American Legion Post 91 Moosup
He leaves his children Ronald Kneeland (Betsy) of Danielson, Michael Mackie (Yesenia) of Bakersfield, CA, Lori Larocque of Connecticut, Gail Stanley of Virginia, Robin Rojas of Florida, Donnajo Harris of Florida, Janell Aguilar of Florida, siblings Mary Brown, Ellie Bransfield, Joseph Butts, stepson Donald "Buzz" Page, Jr., close friend Sandra Racine, many grandchildren and nieces and nephews.
He was predeceased by a son Francis R. Mackie, III, sisters Carol Collins, Constance Collins, Shirley Miller and Rose Barbara Mackie.
A Celebration of life will be held Saturday, September 8, 2018 at 3:00 pm at the VFW of Danielson, 29 Mechanic Street, Danielson, CT. Share a memory at www.gagnonandcostellofh.com