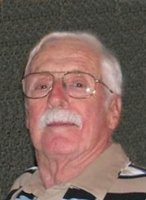 Herbert W. Howe
Herbert W. Howe, 82, of South Woodstock, CT died, Aug. 8, 2018 at Day Kimball Hospital in Putnam, CT.
Born Aug. 3, 1936 in Eastford, CT. He was the beloved husband of Marie (Marrier) Howe, married Jan. 29, 1956 in Woodstock, CT. His foster mother was the late Alma Johnson.
Herbert was a carpenter and worked with many construction companies. He enjoyed watching NASCAR and football. He had a passion for woodworking and made Adirondack furniture and such. Herbert loved spending time with his family.
Herbert leaves his wife Marie Howe; sons Brian Howe and wife Laura of Norwich, CT, Steve Howe and wife Rhonda of Central Village, CT, Jim Howe of South Woodstock, CT; grandchildren Kristina Fusari and husband Nick, Keesen Howe, Angelica Howe, Andrew Howe and wife Becky and two great grandchildren. He was predeceased by his son Bobby Howe.
Calling hours will be Aug. 22, 2018 from 4 to 6PM at Smith and Walker Funeral Home, 148 Grove St., Putnam, CT. A Funeral Service will follow at 6:00 PM at the Funeral Home. Share a memory at www.smithandwalkerfh.com