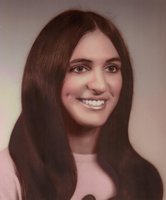 Jean Marie Pappas
Jean Marie Pappas, 64, passed away Sunday, September 9th 2018 after a courageous battle with cancer. She was born and raised in Webster, MA. She was predeceased by her parents, Hercules Pappas and Sophia (Andri) Pappas.
She is survived by her loving partner of many years, Ronald Desaulnier of Thompson, CT; her beautiful daughters, whom she loved and Cherished Lisa Enman of Sunnyvale, CA, a PhD Chemist and Julia Enman of Winter Garden, FL, a Financial Analyst for Disney World; her brothers James Pappas and his wife Barbara of Chichester, NH and Peter Pappas of Webster, MA; her sisters Christine Whelan and her partner Paul Grady of Oxford, MA and Penny Pappas of Holden, MA, as well as many loving friends.
Jean's last job was working for Day Kimball Health Care in Danielson, CT as a patient service representative, where she worked with great people. She enjoyed playing golf, board games and going to Broadway Shows. Her passion was playing tennis a year round with the greatest tennis players.
Calling hours are Thursday, September 13, 2018 from 2:00 to 4:00 PM and 6:00 to 8:00 PM at Smith and Walker Funeral Home, 148 Grove Street, Putnam, CT with a Funeral Service Friday, September 14, 2018 at11:00 AM at the Funeral Home, followed by a burial at St. Mary Cemetery Putnam, CT. In lieu of flowers donations may be made to her tennis club payable to Margaret B. Paskavitch Estate and mailed to Carl Reidemeister, 66 Barrett Hill Road, Brooklyn, CT 06234. Share a memory at www.smithandwalkerfh.com