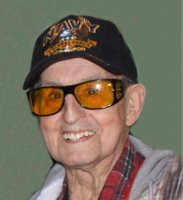 Clayton R. Shead, Jr.
Clayton R. Shead Jr. passed away peacefully on Nov. 12 2018. Clayton was born June 17th 1924 in Putnam CT to Clayton R. Shead Sr. and Esther Diggins Parent. He graduated from Putnam High School in 1942 where he was the star running back on the football team. Upon completion of school Clayton enlisted in the US Navy over the Army, because he said the food was much better. He served during WWII aboard the USS Patoka. Against his mother's wishes, after the war, he re-enlisted where he served on the USS Power and USS Winslow before being discharged on Dec 7, 1948.
On leave from the Navy, he married Doris Bosworth of Eastford CT on Nov. 16 1946. The couple had three children, Kevin, Barry and Audrey. The family settled in Eastford in the home that Clayton built. He worked for many years at UCONN in the Agricultural Facilities and Maintenance Dept. He spent his "down time" raising cattle, sheep, goats, rabbits, chickens, and turkeys. In addition to serving his country, Clayton served his local community. He joined the Eastford Independent Fire Company in 1952, and continued active service until 2009. There he served as Deputy Chief, Head of the Fire Police, and Burn Officer. He also served as town constable for many years.
Sadly, Doris became ill in 1999 and Clayton cared for her every need, acting as her personal live in nurse. After Doris passed, Clayton spent his time traveling to Ireland, the Grand Canyon, and Jamaica with friends. Clayton had a loud, booming personality; he loved talking to every person in the room, cracking jokes and laughing. He leaves his family and friends with thousands of fond memories and valuable life lessons, and he will surely be missed.
Clayton leaves his son, Kevin, and his wife Susan Shead of Eastford; Son, Barry and his wife Brenda of Woodstock; daughter Audrey Carabeau and her husband Garry of Eastford. As well as grandchildren Benjamin Shead and wife Kathryn of Thompson; Jason Shead and wife Elizabeth of Thompson; Heather Minka and husband Nicholas of Holden MA; Alison Shead of Los Angeles, CA; Jesse Carabeau of Baltimore MD; Sarah and husband Jared Sanderson of Woodstock; and Keith Owens of Orlando, Fl. He also leaves behind eight great grandchildren and many nieces and nephews.
Calling hours will be Saturday 9-11AM at Smith and Walker 148 Grove St, Putnam, CT 06260 Putnam CT. Funeral will follow at 11AM, followed by military honors. In lieu of flowers, donations may be made to EIFC #1 PO Box 333 Eastford CT 06242. Share a memory at www.smithandwalkerfh.com