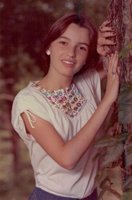 Kelley Greene
Kelley A. Greene, 57, of Thompson, CT passed away November 16, 2018 after a long illness. She was the first daughter born to Richard and Joan (Bellerive) Greene of Thompson, CT on February 22, 1961 in Webster, MA.
She resided in Windham County, CT and worked at Frito Lay for over 25 Years. Kelley loved dancing, music, skydiving and her pets: Skippy, Molly and Missy. She had a great sense of humor and a smile that could brighten any room. She was a sweet loving daughter, aunt, sister and friend. She will be deeply missed by all who knew and loved her.
Besides her parents Richard and Joan, she leaves two sisters Tammy Dalterio of Southbridge, MA and Mandy Carroll of Plainfield, CT; her two nephews L. John Dalterio III and Brandon Thornton; her two nieces Katlyn Thornton and Lesley Beland. In lieu of flowers donation in her memory may be made to Alzheimer's Association Connecticut Chapter, 200 Executive Boulevard, Suite 4B Southington, CT 06489.
There will be no calling hours. A Mass of Christian Burial will be held Wednesday November 28, 2018 at 10:00 AM at St. Mary Church of the Visitation in Putnam, CT 218 Providence Street, Burial in Grove Street Cemetery, Putnam, CT. Share a memory at www.smithandwalkerfh.com