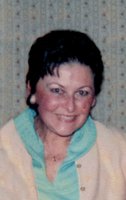 Louise White
Louise Olive (LaParle) White 90, of Danielson passed away Sunday, November 18, 2018 at home. Born in Putnam, CT on June 14, "Flag Day" 1928. The daughter of Louis J. LaParle and Olive M. (Gothreau) LaParle.
Louise attended the Killingly school system. Upon completion of her education, she became employed at W. M. Prym Company. Louise married Richard H. White, who predeceased her on July 2, 2006 "after 55 years. They were married on September 3rd, 1951 by Fr. Auclair at St. Ignatius church in Rogers, CT.
Louise was a loving, caring wife and devoted mother, with grace, kindness and poise. A lovely woman who was modest and compassionate. She had a fondness for animals and nature, especially kittys. Louise also was a talented seamstress. Some of her most enjoyable hours were spent crocheting, crafts, cooking, baking and gardening. She gave away many handcrafted gifts to family and friends. Ballroom and square dancing were favorite activities in her younger days. During the summer, she loved to swim at Alexander's Lake. Louise was also a Communicant of St. James Church in Danielson.
Louise leaves a daughter, Linda her loving caretaker of Danielson. Two sisters Irene I. Maynard of El Dorado, AR and Elizabeth A. LaParle of Brooklyn, CT. One brother David J. LaParle of Beverly Hills, FL, several nieces and nephews and a special niece Sharon Holden, who was very helpful in their time of need.
A Mass of Christian Burial will be Monday, November 26, 2018 at 11:00 AM at St. James Church, 12 Franklin Street, Danielson, CT, burial to follow in Holy Cross Cemetery. There are no calling hours. In lieu of flowers donations may be made to Matulaitis Nursing Home, Rehab Center, 10 Thurber Rd. Putnam, CT 06260.
Gagnon and Costello Funeral Home is in charge of arrangements, 33 Reynolds St. Danielson, CT 06239. www.gagnonandcostellofh.com