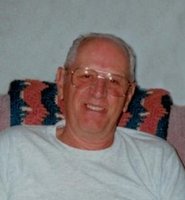 Raymond Rohrig
Raymond G. Rohrig, Jr., 88, of Danielson, CT died November 28, 2018 at Hartford Hospital. Born February 23, 1930 in Providence, RI son of the late Raymond and Aurore (Desrosiers) Rohrig, Sr. He was predeceased by his first wife Eva (Stanley) Rohrig. On September 12, 2004 he married Georgette (Voisine) Rohrig in St. James Church in Danielson.
Raymond was an avid outdoorsman. He enjoyed saltwater fishing, hunting, hiking and fishing in the beaver ponds in the White Mountains. He was a member of the Danielson Lodge of Elks #1706. Raymond was a supervisor at Anchor Glass working there for 22 years.
Besides his wife Georgette, he leaves his children Raymond Rohrig, Eva Tolani, Carol Geary, Shirley Martin and Leah Meladossian; his step-children Juliette Centore and Philip Centore; his sister Jean Schaarschmidt; Also several grandchildren, great grandchildren and two great great grandchildren. He was predeceased by his sisters Jannette Brown, Shirley Roy and a granddaughter Keloha Rohrig.
A Memorial Service will be Thursday, December 6, 2018 at 11:30 AM at Gagnon and Costello Funeral Home, 33 Reynolds Street, Danielson, CT. Burial at a later date in St. Ann Cemetery, Cranston, RI. Share a memory at www.gagnonandcostellofh.com