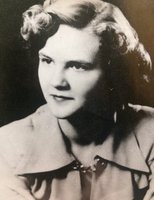 Patricia M. Scott
PUTNAM Patricia Miller Scott, 86, made her peaceful transition Monday, December 17, 2018 at Matulaitis Rehab and Skilled Care. She is survived by her loving husband of 62 years, Ian Macdonald Scott. She also leaves four beloved daughters, Keri S Patterson and her husband Scott Patterson, of NH, Sue Scott Weber of CT and grandson Donald A Weber, Jr, of CT, Alison Scott Cloutier and her husband Paul Cloutier of CT and his children Quinton and Victoria, Kimberly S Nadreau and her husband David A Nadreau of RI, and his children Michael, Jonathon, and Jacob. She was born in Dauphin County, PA, the only child of Carey Miller, DDS and his wife, Edythe.
She was a 1954 graduate of Moravian College for Women in Bethlehem, PA with a degree in English, and was active in the dramatic arts, performing in many plays at university and in summer stock on Cape Cod. In her early married life, she sang professionally and continued with her love of music throughout her entire adult life, participating with her husband in Albuquerque Civic Choir as well as other choral endeavors. A devoted wife and mother and in all ways spiritually-minded, she was an active member in each church where her husband's work took the family, First Congregational Church in Albuquerque, NM, Easton Congregational Church in Easton, CT, Abington Presbyterian Church in Abington, PA, Greenwood Presbyterian Church in Warwick, RI, Wilton Presbyterian Church in Wilton, CT, and Jesse Lee Memorial Methodist Church in Ridgefield, CT. She regularly participated in handbell and choral choirs, often performing solos. She participated in book study groups and was instrumental in developing a collection of varying resources for the Jesse Lee church library. Participating in performances of Handel's Messiah was a holiday tradition. As a musical family, she and her husband Ian passed this life-long love of music on to their children. Of special significance, they all found it extraordinarily comforting that as she was leaving Matulaitis for the last time, the "Hallelujah Chorus" began to play through the speakers above.
Another natural gift of Patricia's was in the realm of caretaking. In addition to raising her family, she ran a home day care for almost twenty years providing a nurturing environment for the children of many working families. She also provided varying levels of daily care to aging family members for many years. Her love and care of others was endless.
Memorial service to be held at First Congregational Church of Woodstock, Saturday, January 5, 2019 at 11:00 am. The family requests that donations in her memory be made to Matulaitis Nursing Home, 10 Thurber Road, Putnam, CT 06260, or the Alzheimer's Association at alz.org. Arrangements by Smith and Walker Funeral Home, 148 Grove Street, Putnam. Share a memory at www.smithandwalkerfh.com