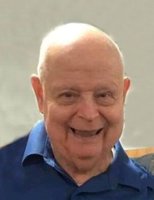 Philip Godin
Philip A. Godin, 75, of Putnam CT, passed away at Davis Place in Danielson, CT on December 24, 2018. Phil was born on January 30, 1943 in Hardwick, VT to Peter and Hazel (Cote) Godin.
Phil is survived by his sister Patricia (Denis) Drouin, nieces Bonnie (Jason) Gaudreau and Heidi (Christopher) Davis of CT and by one great nephew and several great nieces.
Philip worked at Day Kimball Hospital for 40 years, retiring in 2004. He was involved with the ARC of Quinebaug Valley, was a member of the Brooklyn Senior Center, a volunteer at DKH and was a member of the Kingdom Hall of Danielson. Philip, a very social man, loved visiting PJ Donuts, riding his bike to sporting events, traveling to Graceland (a true fan of Elvis was Phil!), Hawaii, Orlando, Branson, MO and he enjoyed visiting with his many friends. He looked forward to participating in yearly talent shows, the Special Olympics and was a bowling enthusiast.
Calling hours Saturday, December 29, 2018 from 4:00 to 6:00 PM at Smith and Walker Funeral Home, 148 Grove St. Putnam, CT followed by a Celebration of Life at 6:30 to 8:00 PM. ARC of Quinebaug Valley, 687 Cook Hill Rd, Danielson. In lieu of flowers, please donate to the ARC of Quinebaug Valley, Cook Hill Rd., 687 Cook Hill Road, Danielson, CT 06239. www.smithandwalkerfh.com