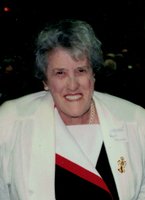 Hazel Edwards
PUTNAM - Hazel Edwards, 94, of Putnam, passed peacefully on January, 23, 2019 after a brief illness at Matulaitis Nursing in Putnam. Born in Putnam January 10, 1925, daughter of Matthew and Mary Jane (Pennington) Edwards.
She lived in Putnam all her life, lifelong member of the Congregational Church of Putnam. Worked at Putnam Woolen, Beldings and volunteered at Day Kimball Hospital. She loved being with her family and friends and traveling.
She leaves her nephew Robert Bernier (Sandy) of Paso Robles, CA, niece Janice Kennette (Allen) of Punta Gorda, FL, great nephew Jeff Bernier of Texas, great nieces Allison Langevin (James), April Thomas (Chris), Madison, McKenzie, Taylor, Noah.
Predeceased by her parents and sister Hilda Bernier (Omer).
Services will be at a later date.