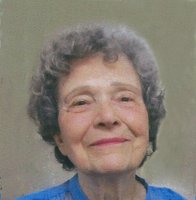 Janet Fellows
Janet Leschke Fellows passed away peacefully on January 24 with her family at her side. She was born on 8-28-28 in Hartford to the late Emil and Bertha (Gilmour) Leschke. She was raised in West Hartford. Never letting her inability to hear well be a disability, she took ballet lessons when she was young, and even performed at the Bushnell Theater. She was a graduate of Hall High, attended the former Hartford College for Women and Vesper George Art School in Boston. In 1948 she moved to Pomfret when her father founded the former Leschke Puffer Insurance Agency in Putnam. While living in Pomfret, she met her future husband Norman Fellows. They were married in 1951, and made their home in Woodstock for the next 67 years. She was a member of the First Congregational Church of Pomfret for 70 years. She belonged to the women's fellowship, was the organist, served as treasurer, and also taught Sunday school.
When her children were young, she did accounting for her father's insurance company, working at home at night. She loved playing bridge. For many years she was part of a bridge league that benefited the Woodstock Nursery School. Her and her husband were also long time members of the Woodstock Country Square Dancers. She was a volunteer with the Meals on Wheels program, and enjoyed her interactions with the people that she met through her deliveries. An avid reader, she was always interested in learning new things. History was one of her passions. Along with her husband, they traveled to many historical sites throughout the northeast. They also enjoyed their trips to the mountains of New England and the shores of Cape Cod. She was a life long fan of the Red Sox and UConn Women's Basketball. She never missed a game!
Music and art were an integral part of her life. She was talented at any form of art she pursued. However painting with oils was her love, and she produced many beautiful pieces that she displayed throughout her home. In addition to playing the organ, she was an accomplished pianist. She enjoyed listening to classical music and opera.
She was predeceased by her husband and best friend of 67 years, Norman Fellows. She leaves a daughter Susan Kozey and her husband Michael of Eastford, a daughter Katherine Fellows and her husband Daniel Southall of Pomfret, grandchildren Nicholas Kozey and his wife Jody, David Kozey and his wife Karrin, Brian Kozey, Collin Sumera and his partner Toquyen Doan, and Kristiana Sumera and her partner Carlos Rivera, great grandchildren Evan, Alexander, Andrew, and Jillian Kozey, sister in law Bernice Fellows of Bolton. She was predeceased by her brother Robert S. Leschke, brother in law Donald Fellows and sister in law Elaine Fahle her husband Robert.
Burial will be private at the Woodstock Hill Cemetery. Arrangements by Smith and Walker Funeral Home of Putnam. In lieu of flowers, donations may be made in Janet's memory to the First Congregational Church of Pomfret, 13 Church Road, PO Box 297, Pomfret Center, CT 06259 or The Smile Train at P.O. Box 96231, Washington, D.C. 200090-6231. www.smithandwalkerfh.com