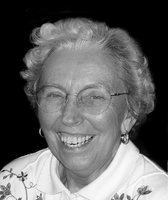 Jean Barlow
Jean Barlow of Eastford, aged 92, went to be with her Lord on January 31, 2019 ending her long battle with dementia. Jean (Trepal) Barlow was born in the Phoenixville section of Eastford September 27, 1926 to Edward A. Trepal and Leta (Sabin) Trepal. She had three younger sisters; Helen, Dorothy and Elaine. Jean was a 1943 graduate of Woodstock Academy and received a Home Economics degree from UCONN in 1947. After graduating from UCONN she taught Home Economics for two years at Portland, CT High School. Her life changed in 1950 when she married Herman E. Barlow. Over the next eleven years they had six sons together. Jean's home economics training turned out to be very practical.
For many years Jean enjoyed tending a large vegetable garden; cooking, canning and freezing the produce. She also washed and cleaned milking equipment daily as the family raised cows for their own food. She sewed clothes for her boys and provided for her family in every way. She also helped Herman launch Mansfield Supply in 1954.
Community service flowed out of Jean's life. Early in her marriage, she led a Home Economics Club where she taught other women skills to provide for their families. She served many years as secretary for the Eastford Elementary School Board. She also dedicated time to impart her wisdom to young boys, working both as a Cub Scout leader and a 4-H leader. She started a dairy 4-H Club with Franklyn Buell. Later she led "The Little Rascals," a science-based 4-H Club, with Ralph Yulo. After her boys had grown, Jean enjoyed many years volunteering at Day Kimball Hospital.
Jean was active in the Eastford Baptist Church for 50 years, participating in the Women's Fellowship, the Ladies' Bible study and the Gideon's International Auxiliary. She always made sure to invite kids to Vacation Bible School, hosting them in her home when necessary. She was unfailingly hospitable, always welcoming extended family members and her boys' friends into her home. Whether they came for a meal, or stayed for a week, they were always made welcome. As she said, "When you're cooking for eight, what difference does an extra one or two make?"
Jean will be missed by her five surviving sons; David (Ruth), Glenn (Su Ann), Bruce (Linda), Herman, Jr. (Diane), James (Kathy Jean), and her daughter-in-law Joan, all of Eastford. She was predeceased by her son Dennis (Joan), and her husband Herman, to whom she was married for 59 years - until his death in 2009. Jean also leaves 17 nieces and nephews, 16 grandchildren and 21 great grandchildren. Jean will also be missed by her sister Elaine Mannhardt of Keezletown, VA. She was also predeceased by her sisters, Helen Yulo and Dorothy Clark.
Calling Hours will be on Sunday, February 24, 2019 at Eastford Baptist Church, 133 Union Road, Eastford, CT from 2:00 to 3:00 PM. A Memorial Service will follow at the church at 3:30 PM. In lieu of flowers, donations may be made to her son's scholarship fund for Eastford college students. To give, please go to https://www.cfect.org/Donors/Our-Funds/Give-Now and select the "Dennis S. Barlow Scholarship Award Fund." Smith and Walker Funeral Home, 148 Grove Street, Putnam, CT www.smithandwalkerfh.com