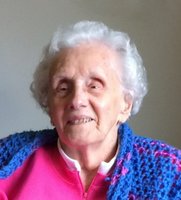 Dorothy Bates
Dorothy Bates, 94 of Putnam, formerly of Thompson, died February 5, 2019 at Day Kimball Hospital in Putnam. She was the beloved wife of Elmer E. Bates, he died in 2005. She made her home in Thompson for many years. She enjoyed crocheting, sewing and gardening.
She was born December 8, 1924 in Thompson, daughter of Paul and Anita (Audette) Aucoin.
She leaves her daughter Paula Mike and her niece Anita Santerre. She was predeceased by her son Paul Bates in 2006, her siblings, Cecile Dupont, Leo and Gerard Aucoin.
Funeral Services are private. Donations may be made in her memory to Matulaitis Nursing Home, 10 Thurber Road, Putnam, CT 06260.