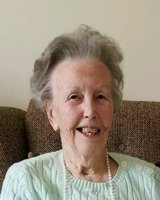 Doretta Tinti
Doretta P. Tinti "Meme", 96, of North Grosvenordale died Tuesday, February 5, 2019 at Villa Maria Nursing Home in Plainfield, surrounded by her family. Beloved wife of the late Charles R. Tinti, who died in 1985. She was born in New Britain, CT on September 26, 1922, daughter of Howard and Gertrude (Strosser) Pascoe.
Doretta was a member of the Thompson Congregational Church since 1965 and was a member of the Thimble club, volunteered with the Red Cross for 25 years, the voting polls in Thompson, the Thompson Library and TEEG. She owned Tri-State Electronics with her husband from 1965-1971, later working as a bookkeeper for Bugbee's Department Store from 1972 until closing. She loved her doll houses that her father made her in 1940, enjoyed plastic canvas and knitting. Meme loved spending time with her grandchildren playing cards, puzzles and games.
She leaves her children Roger Tinti and his wife Sandee of Missouri, Darlene Kudzal and her husband Frank of Putnam, siblings Jean Coghill and her husband Henry of Schenectady, NY, Arthur Pascoe and Grace of CT, grandchildren Randy Kudzal and his fiancée Sarah of North Grosvenordale, Ryan Kudzal and his wife Stephanie of Sellersville, PA, Raun Kudzal and his wife Lindsey of Putnam, Ross Kudzal and his wife Jessie of Woodstock, Rene Kudzal and his wife Edtess of Danielson, Reid Kudzal and his wife Naomi of Thompson, Rory Kudzal of Moosup, Regan Kudzal of Putnam, great grandchildren Gabrielle, Isabella, Kayden, Khaya, Blake, Connor, Dustin, Zachary "Bobo", Jackson, Andrew, many nieces and nephews. Predeceased by a sister Eadie Martin of Oregon and an infant brother.
Calling hours will be Saturday, February 16, 2019 from 11:00 to 12:00 PM with a Funeral Service at 12 Noon at Smith and Walker Funeral Home, 148 Grove Street, Putnam, CT. Burial will follow in West Thompson Cemetery. In lieu of flowers donations may be made in her memory to Thompson Public Library, PO Box 855, North Grosvenordale, CT 06255 or Thompson Congregational Church, PO Box 308, Thompson, CT 06277 or Alzheimer's Association Connecticut Chapter, 200 Executive Boulevard, Suite 4B, Southington, CT 06489. Share a memory at www.smithandwalkerfh.com