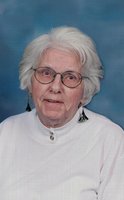 L. Dorcas Labonte
L. Dorcas Labonte, 103, of Putnam died Thursday, February 7, 2019 at Matulaitis Nursing Home in Putnam, surrounded by her family. Beloved wife of the late Leonel L. Labonte, who died in 2001. Born on December 14, 1915 in West Glocester, RI, daughter of Homer and Bertha (Greene) Martin.
She was a Licensed Practical Nurse and worked for Day Kimball Hospital in Putnam. She volunteered with the Red Cross for many years. She was a member of The Methodist Church of Putnam, involved in the choir, volunteered with church suppers and also taught Sunday School. She enjoyed crocheting, knitting, reading, loved to bake and she had a great sense of humor.
She leaves her children Eugene Labonte and his wife Joyce of Putnam, Michael Labonte of Putnam, Christine Paparo and her husband Gary of Dayville, brother Kenneth Bowen and his wife Shirley of Burrillville, RI, grandchildren Gabrielle Labonte and her husband David Gratton of Pomfret Center, Carly Hetrick and her husband Craig of Putnam, Michael Paparo and his wife Jessica of Glocester, RI, Krista Paparo (Jay) of Dayville, great grandchildren Zoe, Owen, Olivia and many nieces and nephews. She was predeceased by eight brothers and sisters.
Funeral Service will be Thursday, February 14, 2019 at 10 AM at the Living Faith United Methodist Church, 53 Grove Street, Putnam, CT. Burial will follow at Munyan Cemetery in Putnam. In lieu of flowers donations may be made in her memory to The Hole In The Wall Gang Fund, 555 Long Warf Drive, Department W, New Haven, CT 06511. Share a memory at www.smithandwalkerfh.com